Toner 101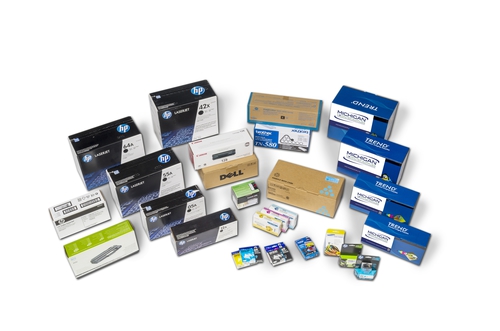 Whether you buy "off-brand" toner cartridges to save money or help the environment, you probably still have concerns about their reliability.
Do you know the difference between compatible toner cartridges and OEM toner cartridges?
What about refilled, re-manufactured and refurbished cartridges?
We're sharing the basics with you below in Toner 101!
OEM Toner Cartridges - These letters stand for original equipment manufacturer. So, if you're using an Hewlett Packard (HP) printer, there's a special HP printer cartridge for it. This OEM toner is precise, which means it generally has very good print quality, but it comes at a much higher price than remanufactured toner. Printer companies make their money on toner because it's a consumable that gets replaced regularly. They sell the printers at low cost, but they come with "starter" cartridges, which last only long enough to get the printer functioning. You then spend big bucks for a toner cartridge or a whole set of toners. It's also true that OEM cartridges occasionally fail. Since they're OEM's, the end users often consider them empty and send them off for recycling.
Compatible, Recycled, Remanufactured, or Refurbished Toner Cartridges - These toner names are interchangeable. They started out as an OEM cartridge but have been reused in various ways and resold again. Reputable companies like Michigan Computer Supplies, Inc. will disassemble, clean, test and replace most parts with new ones prior to filling the cartridge with new toner. When this process is done correctly the cartridge will often perform as well as the original. Some remanufacturers use better quality parts than others, such as the delicate drum, or OPC (Optical Photo Conductor). Beware of companies that sell the cartridges for much less than street prices for compatibles. They often just drill a hole in the plastic shell and refill it with toner and insert a plug. It's these "Drill and Fill" companies that give refurbished cartridges a bad name.
If a remanufactured cartridge doesn't work, it could be that the sensor chip embedded inside is defective. If this chip is damaged or defective, your printer may not detect the cartridge, and it won't print.
We encourage you to give our compatible toner cartridges a try. In general, you'll save from 30-60% per cartridge compared to the OEM's. Compatible cartridges do fail, but when they do Michigan Computer Supplies, Inc. will replace them immediately with NO QUESTIONS ASKED. If toner spills in your printer, one of our HP authorized Technicians will come and clean the machine immediately. MCS has taken away the risk of trying remanufactured toner cartridges!
When you purchase cartridges through Michigan Computer Supplies, Inc., you'll not only get excellent and friendly service, you'll also save money, keep extra waste out of the landfill and support a local company!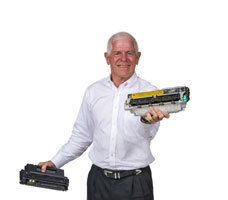 With our "No Questions Asked" replacement policy we've taken the risk out of buying compatible toner cartridges.
What are you waiting for? Give us a call today!